Presenting the story of the life and music of america's great woman composer, Amy Beach, is a journey of substance and style. Amy is an example of a great concert pianist and composer who shares with us relevent advice for today. Beach said, "the intelligence and education of a nation are qualified by its music''.
During Beach's lifetime she was interviewed by etude magazine many times. She spoke at the MTNA national convention giving a speech ''a plea for mercy''. Beach performed her concerto with many orchestras throughout europe. Beach was the co-founder and first president of the association of american women composers.
During the past thirty years i have personally met and interviewed three ladies that actually knew Amy Beach. Lillian Bantz was an artist who painted a picture of beach's summer home. Mrs. Quick was her copyist and had interesting letters from amy. Emma met Beach when she was seven and heard her play at a recital.
From my experience playing her music and doing research on Beach's life, i have compiled many books about her including, 'the music of Amy Beach', which was recently reviewed in the 'American Music Teacher'.
Beach said, "pass on whatever joy you may discover in your work." it would be my joy to pass on some of the most useful tips i have learned from studying Amy's life and share the music i have found to be most useful in teaching and performing.

Title of Session and Description
Celebrate the life and music of Amy Beach
Beach's 150th birthday will be in 2017. Learn interesting facts about her life and music. This musical journey takes you thru all levels of piano repetoire starting with a piece she composed at age four.
This workshop will highlight composing and improsivation techniques used by Amy Beach and others. Creative ideas will be shared to enable teachers and students to improvise and compose using left hand patterns and right hand fills. Also, you will hear examples of palindromes, semordnilaps and ambigrams composed for the piano.

Amy Beach Concerts
Tribute to Amy Beach
This piano concert includes a variety of beach's music woven together with interesting stories behind the music. It is a musical celebration the whole family will enjoy.

To confirm a concert for your concert series, church or college for Amy Beach's 150th celebration

Call (954) 491-6683 or email gailsmith@earthlink.Net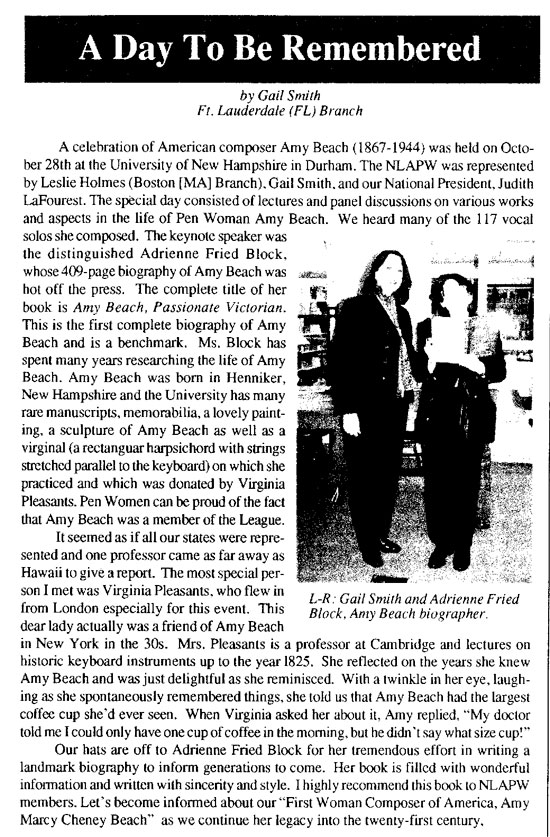 Reprinted from the January / February 1999 Pen Women Magazine.
Adrienne Fried Block died on April 5, 2009 in New York City.